If you are selling courses in your university and have a payment gateway set up*, you can offer learners an option to pay with Purchase Order (PO) instead of a credit card.
First, the purchase order option will need to be set up for your university. Once learners have this option available to them, you will be able to view purchase orders as well as credit card orders via for all transactions via the Online Transaction Report.
NOTE: Learners are automatically enrolled in course(s) or training track(s) as soon as they have submitted their purchase order transaction. There is not an option to integrate with a third party purchase order system to reconcile payments or to reverse enrollments if a cancellation is needed. In these cases, learners will need to be manually un-enrolled by an administrator for the course or courses that were selected during the purchase order related transaction.
*You must have a payment gateway set up for the PO option to work. For more information, see Offer Courses for a Fee or contact your Customer Success Manager.
Set up Purchase Orders in your University
To set up purchase orders for your university, navigate to the admin area. Go to Settings > University > User Interface.
Click the Commerce link in the menu to the left.
Check the "Enable Purchase Orders" box to set up invoice information.
Enter your Invoice number settings.
Your prefix may contain alphanumeric characters or symbols. (If you wish to show a symbol, like a dash, between the number prefix and the invoice number, enter it in this field.)
Your starting invoice number will increment by 1 with every invoice generated.
NOTE: Once you have saved your setup, you may not change the Invoice number settings. You will need to contact BlueVolt for any changes.
Enter your Invoice information.
Select your language from the drop-down. You may enter different information for each language.
NOTE: If you do not enter any information for a particular language, the purchase order option will not display to purchasers who are viewing the website in that language.
Organization Name and Address: Enter your company name and headquarters address.
Remit To Address: Enter the address where the purchaser should send the invoice and payment.
Purchase Order: Submission Instructions: Enter any instructions you wish to display to the purchaser on the purchase order page.
Purchase Order: Payment terms: Enter any instructions you wish to display to the purchaser on the invoice concerning remittance of the invoice.
Learner Workflow Using Purchase Order Option
When learners select an item with a cost, they may wish to pay for it with an invoice.
Once all items are in the shopping cart, click the "Begin Checkout" button.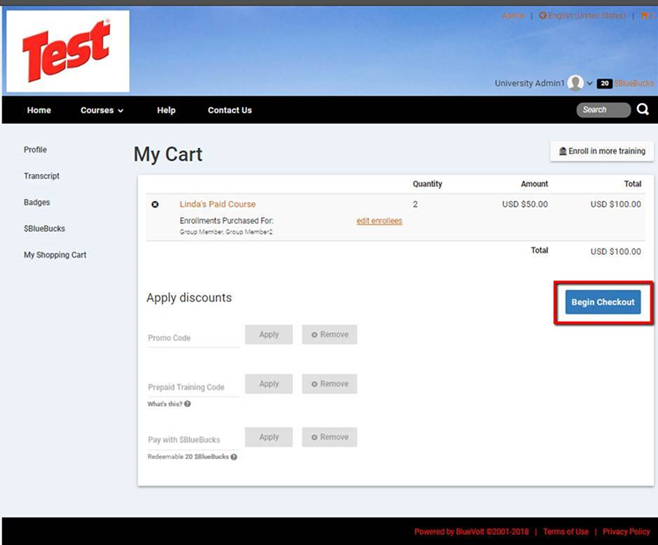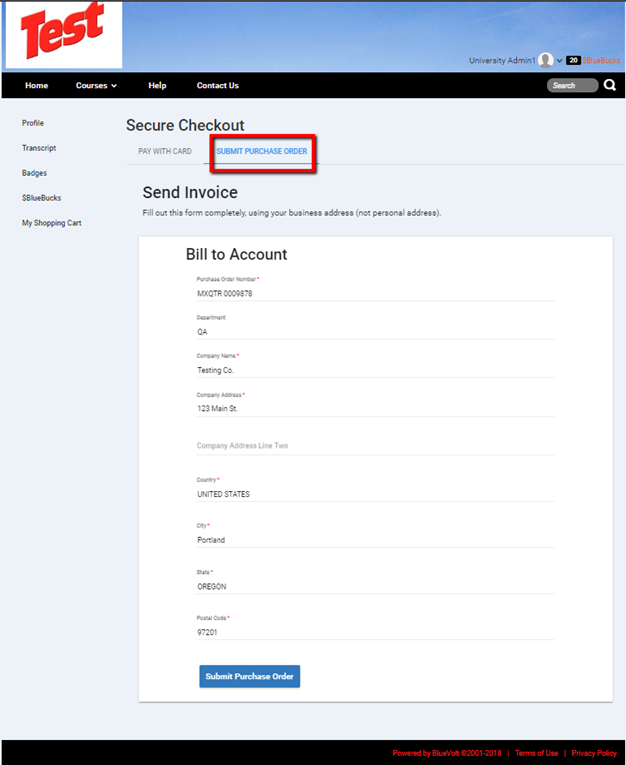 You will see the payment page where you can select "Pay with Card" or "Submit Purchase Order".
Click "Submit Purchase Order" tab and fill out the purchase order form.
Click "Submit Purchase Order" button at the bottom to generate your invoice.
The invoice is created.
Learners may print the invoice with the button at the top.
NOTE: Learners will also receive an email with the invoice attached for their records.
*Items in green show the purchase order information entered by the purchaser.
*Items in blue show invoice information provided by the university.
Online Transactions Report for Admins
To view purchase order transactions in your university, go to the admin area and click Reports – Online Transactions.
Be sure to select Purchase Order from the list.
When the report downloads, you can see the new Payment type "Purchase Order".
When you scroll to the right, you will see other fields specific to purchase orders.
Here is the information for the purchase above: