When you Create an Assessment that contains an Essay Question, that question will need to be graded by an admin. University Admins, Group Admins, and Course Instructors can grade Essays. You can specify Group Admins and Course Instructors on the course level.
This article contains the following sections:
How to Adjust Learner Grade Essay Notifications
By default, learners receive notifications when their essays are graded. You can turn these off by going to Settings > University Properties and scroll to the field called Turn Off Grade Essay Notification and checking the box. This will disable all learner Grade Essay notifications.
NOTE: This means the learner will not receive a notification that their essay has been graded. They will not know if they have something to correct in the essay or what their score is without manually logging in and going to their Transcript to see.
How to Determine Who Will Grade the Essay
In Course Editor, while creating a course, you can designate who will receive Grade Essay emails. To do this, go to 4.Settings > Essay. From here, you can select All Group Admins, All Course Instructors (for that course), or designate specific Group Admins.
NOTE: All University Admins receive these notifications. Configuring who can receive these notifications is on the Group Admin and Course Instructor level only.
How to Grade Essays
To go in and grade the essays for your learners, go to My University > Learner Activity > Grade Essay.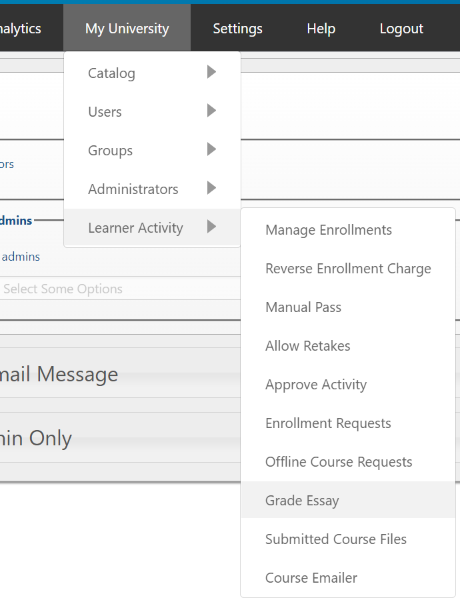 This will take you to a screen that displays a list of all the learners for whom you are permitted to grade essays.
Select the learner you wish to grade by click on the Grade Assessment link to the right of the learner's name. This will bring you to the Grade Essay screen with the essay answers.
You can select Complete, Incorrect, or Incomplete and provide notes/feedback.
NOTE: Clicking Submit will only notify the learner via email if you have not disabled Learner Grade Essay Notifications in the University Properties above.
If you have marked the learner as Incorrect or Incomplete, and the Assessment Settings allow for additional retakes, the learner will be able to retake the assessment and resubmit for grading.
After you click Submit, the system will let you know if the learner passed or failed. The system will also update the course with the correct status of the Assessment Module. If the learner passed and the course is now complete, that status will update. If the learner needs to retake the assessment, the module's Launch button will be active and the learner will be able to re-launch the course to resubmit.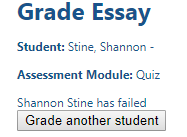 If you have additional essays to grade, you can click Grade another student.