BlueVolt' s 2020 Winter Release is packed with updates to Embedded Analytics, the Sharing Center, and KnowledgeBumps.  Here is a quick synopsis of what's in this release. Links to various Knowledgebase articles are provided to learn more about the updates to each of these features.
Embedded Analytics:  Learn more here
BlueVolt comes with a robust analytics suite. The core offering provides dashboards that give you board-ready insights into the aggregated performance of your training program.  
Upgrading to the Executive level offers advanced data modeling capabilities, along with the ability to author and save your own custom dashboards. 
Sharing Center: Learn more here
Sell Courses via the BlueVolt Sharing center: You can earn revenue on the courses you want to sell via the BlueVolt Sharing Center. Admins of other universities can then purchase enrollments and set the course up in their university.
Sharing Center Notification Filters: The ability to filter notifications on the Sharing Center has been added so that admins may more quickly find the necessary notifications to act upon. You may now filter via Notification Types or choose to show only notifications with a status of Pending/Needs Approval.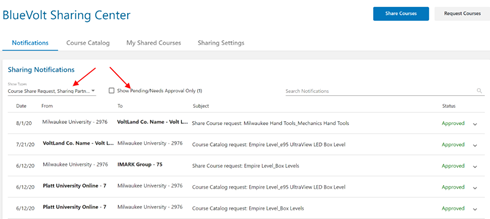 Sharing Center Course Catalog Company Name: Your BlueVolt customer success manager may add a company name to the setup for your university. When this information has been added it will display on the Sharing Center Course Catalog filter panel under the publisher section. The display shows: Company Name – University Name – University ID. (See example of BlueVolt – BluePort – 3246 in the screenshot provided.)
Admins can see BlueVolt Link™ partners: Admins of universities with the option of "Allow Sharing to Link Customers" (must be enabled by your BlueVolt customer success manager) will now see BlueVolt Link™ next to the names of partners with an external LMS that you may want to share your courses with. You will also see these partners with this designation while in the Sharing wizard and also on the Courses I'm Sharing – Group by Subscriber page.
KnowledgeBumps™: Learn more here
Choose Hours for a KnowledgeBump™: In addition to days, months, weeks – admins will now be able to select Hours for the delivery of a KnowledgeBump™.
KnowledgeBump™ Notifications: When a KnowledgeBump is delivered to learner (via text or email or both), a learner side notification with link to the KnowledgeBump is also sent.


KnowledgeBump™ Learner Privacy Settings: Admin Can Change Communication Preferences for KnowledgeBumps. This enables the learner to choose if they want to receive texts for KnowledgeBump™ delivery.

Flash Course Inactivation
To support the upcoming Flash retirement at the end of December 2020, all courses in the platform with Flash modules are marked as inactive. These courses are still accessible to admins in your uni. They may update the course and reactivate as needed. Please contact your BlueVolt customer success manager if you have any questions.
Bug fixes:
Updated missing translations for the request permission page for blocked domains. 
Resolved issue with Flash Audit Report timing out. 
Fixed issue with old badge images still displaying.
Resolved issue where some courses didn't play via Chrome browser. 
Resolved issue on the Sharing Center where "Next Page" button did not changed between disabled and enabled states when the number of pages changes in the Sharing Center.