BlueVolt offers a wide variety of reports across many segments of data (courses, users, accounting, etc.)
Available Reports
The reports are available in the Reports tab on theAdmin Navigation Bar . They are organized into sub-groups.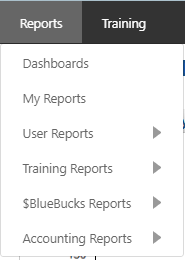 Dashboards: Reporting overviews, information at a glance. Good for quick analysis and a visual look at training progress.
My Reports: This is where you can find your Scheduled Reports
User Reports
Training Reports
$BlueBucks Reports
User $BlueBucks: How many $BB each student has earned over the specified date range. Great for tracking $BB earning per student.
University $BlueBucks: Total and detailed information on how many $BlueBucks have been paid out by your University. Perfect for tracking $BB paid for tax purposes, budgeting, or reconciling $BB invoices.
Accounting Reports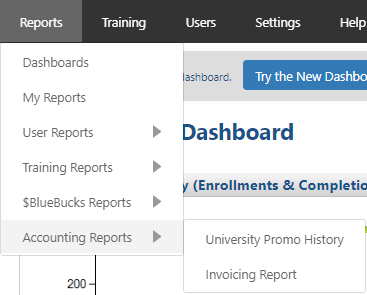 University Promo History: Which promo/discount codes have been used (only if you have paid courses with promo codes). Useful to track which promo codes are being used most frequently (such as for marketing A/B campaigns).
Invoicing Report : This report will give you information on the course-related items BlueVolt charges you monthly. This is primarily for Shared Courses.